Website Design and Optimization
Visit our current corporate site ddacorp.com
Learn more about our website design, eLearning, video production, software development and programming, mobile apps, and augmented reality services.
---

---
MCS Public Relations Mobile-Compatible Online Applications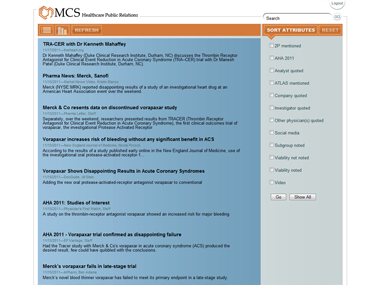 With the upcoming American Heart Association's 2011 Scientific Sessions convention quickly approaching, MCS Healthcare Public Relations wanted a mobile-compatible online application that would allow their pharmaceutical client to quickly post and classify news articles and other online materials. Under a close three week deadline, DDA designed and programmed a tool that empowered MCS and their client with the ability to post articles, arrange them chronologically, and sort through them using 10 dynamic matrices that can be redefined as needed.
The tool also includes automatically-updating graphs that record the overall presence of the attributes defined in these matrices, as well as an incredibly useful administrative backend that allows the client to edit and post new articles with time stamps, contact information, and matrix values, load images into an image bank for posting with the articles, create new passwords with varied access levels, and view reporting on the specifics of which articles are accessed by the different passwords and at what times.
---
---
VIRTUAL MEDICAL SIMULATIONS
Virtual medical simulations represent the pinnacle of medical eLearning. Combining live-action video, voice-over narration, custom 3D environments, 3D models, 2D and 3D animation, virtual reality, gamified skills testing, certification, and more, virtual medical simulations represent the core of what DDA is all about: combining creative and technical disciplines to execute robust interactive multimedia platforms with beautiful aesthetics and engaging dynamics that make for richly rewarding and memorable experiences. DDA pioneered virtual medical simulation technology, and its exceptional work in the field earned it the first issued Tabby Award for Best iPad Healthcare App in 2012, for the Philips Health XperGuide VMS. Contact DDA today to learn more about what virtual medical simulations can do for your organization.
---
Latest Blog Posts
---
Medical Advertising and Marketing | Corporate and Medical Videos | Corporate and Medical Training
Search Engine Marketing | Custom Software Programming | USA Marketing and Advertising
Interactive Media Design
Search Engine Marketing Philadelphia | Search Engine Optimization Pennsylvania
Search Engine Promotion New Jersey | Website Design Philadelphia | Website Marketing Delaware
Website Optimization New York | Website Promotion Pennsylvania | Internet Promotion Delaware 
Internet Business Pennsylvania | Internet Advertising Philadelphia | Internet Marketing New Jersey