Website Design and Optimization
Visit our current corporate site ddacorp.com
Learn more about our website design, eLearning, video production, software development and programming, mobile apps, and augmented reality services.
---

---
Custom Website Redesign for Mark's Jewelers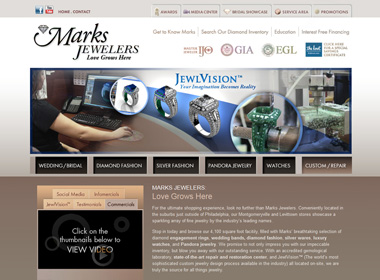 DDA redesigned Mark's Jewelers' website in 2011. Aiming to evoke the same sense of sophistication that the company maintains in its collection of fine jewelry, DDA integrated a rotating slide show of images that represents the many kinds of jewelry the company offers to its customers. The site also includes an interactive media center which displays a wide range of Mark's Jewelers' marketing messages, including social media campaigns, client testimonials on video, commercials, and infomercials. DDA built a custom-programmed showcase for the site to allow customers to browse through Mark's Jewelers' impressive online inventory of bridal jewelry. This showcase features the seamless navigation that DDA is known for, allowing users to easily find the product they're looking for, view products in 360-degree rotation, share this information with friends and family, and contact a sales associate when they're ready to make the purchase. The site also includes a library to store recently viewed items for easy recall during a later visit. Additionally, DDA provided search engine optimized content, written in-house by DDA's copywriters, written to attract those in the Montgomery County region looking for the kind of fine jewelry that Mark's Jewelers provides.
---
---
VIDEO-BASED MEDICAL ELEARNING
Video captures attention and frames information in narrative, character-driven structure that helps keep viewers engaged. That's why video-based medical eLearning platforms are an excellent way to teach complex medical topics and ensure full comprehension. DDA was one of the first digital video/animation studios in the nation, and its long history in developing video-based medical eLearning platforms has given the company the experience it takes to create powerful learning experiences that are enjoyable and lead to long-term memory retention. DDA handles everything from concept to completion, including scriptwriting, storyboarding, casting, platform design, course content integration, metrics reporting, administration features, and anything else that may be required. Make your video-based eLearning a success. Contact DDA today.
---
Latest Blog Posts
---
Medical Advertising and Marketing | Corporate and Medical Videos | Corporate and Medical Training
Search Engine Marketing | Custom Software Programming | USA Marketing and Advertising
Interactive Media Design
Search Engine Marketing Philadelphia | Search Engine Optimization Pennsylvania
Search Engine Promotion New Jersey | Website Design Philadelphia | Website Marketing Delaware
Website Optimization New York | Website Promotion Pennsylvania | Internet Promotion Delaware 
Internet Business Pennsylvania | Internet Advertising Philadelphia | Internet Marketing New Jersey