Website Design and Optimization
Visit our current corporate site ddacorp.com
Learn more about our website design, eLearning, video production, software development and programming, mobile apps, and augmented reality services.
---

---
Ecommerce Website Design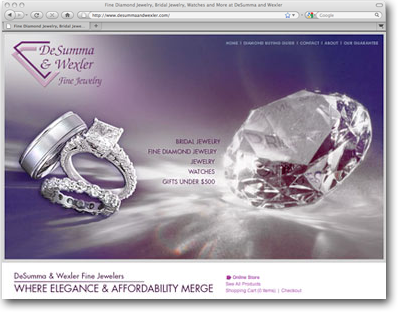 DDA designed, developed, and search engine optimized this website for DeSumma & Wexler, a retailer of fine jewelry. Pulling inspiration from the company's existing logo, our staff of professional web designers used purple hues and diamond imagery to convey sophistication and exceptional product quality. Site features include a dynamic shopping cart in which users can browse through and purchase DeSumma & Wexler inventory. Fully-customized by DDA's programmers, the cart administration is tailored to the specific needs of the client for ease of product population and order fulfillment. Site designed in 2007.
---
---
SYNCHRONOUS MEDIA ELEARNING PLATFORMS
Synchronous media is the use of video synchronized with text and images to present rich multimedia eLearning content that captures and keeps attention. DDA is an early adopter of synchronized media in medical eLearning platforms, and continues to promote its use for medical eLearning course content which needs to be precisely understood and remembered, detail by detail. Synchronous media affords the end user more control over their experience, allowing them to open and close those media channels most relevant to them, thus enhancing the self-directed learning approach that keeps them personally involved in learning the content. Synchronous media eLearning allows for flexible use of personal libraries, where image, text, document, and even video content can be specifically saved for an individual user's later review, so they can focus on the material which is most important and/or most challenging to them. DDA provides all services in the creation of its synchronous media eLearning platforms, including casting on-screen and voice-over talent and recording all video and audio either on location or at its own video studios. When you need to ensure that your audience has a firm grip on all the details of an eLearning course, choose DDA to design and develop a custom synchronous media eLearning platform for you. Contact DDA today.
---
Latest Blog Posts
---
Medical Advertising and Marketing | Corporate and Medical Videos | Corporate and Medical Training
Search Engine Marketing | Custom Software Programming | USA Marketing and Advertising
Interactive Media Design
Search Engine Marketing Philadelphia | Search Engine Optimization Pennsylvania
Search Engine Promotion New Jersey | Website Design Philadelphia | Website Marketing Delaware
Website Optimization New York | Website Promotion Pennsylvania | Internet Promotion Delaware 
Internet Business Pennsylvania | Internet Advertising Philadelphia | Internet Marketing New Jersey