Website Design and Optimization
Visit our current corporate site ddacorp.com
Learn more about our website design, eLearning, video production, software development and programming, mobile apps, and augmented reality services.
---

---
ACP Interactive Benefits Guide for Members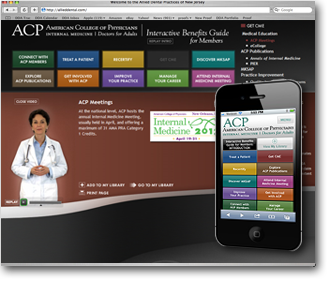 Consisting of 130,000-plus internist members, The American College of Physicians (ACP) is the largest medical-specialty organization in the United States. When ACP wanted to improve the organization's member recruitment and retention rates, particularly among young internists, ACP turned to DDA Medical. To promote ACP's membership benefits, DDA Medical suggested a proprietary SmartSiteT in which all main sections include synched video, text, pictures/graphics, and related links to ACP's main website where users can learn more about any given topic. The SmartSiteT DDA Medical designed and developed for ACP allows users to close and reopen the video, print pages, add items of interest to a personal library area for easy reference at a later date or to email to a friend or colleague. DDA Medical took ACP's promotion to young internists a step further by designing and developing a Smartphone version of the website that provides for easy navigation on smaller, mobile touch screens. In addition, DDA Medical built in tracking mechanisms for the Interactive Benefits Guide that allows ACP to monitor the number of visits and navigation of new and existing member users. Site designed in 2011.
---
---
MEDICAL ELEARNING VIDEOS AND ANIMATIONS
DDA was one of the first all digital video and animation studios in the country, and it has honed its services over the years by developing some of the highest quality medical eLearning videos and animations in the industry. Medical videos are effective when nothing but a real world view will do. DDA has captured complex surgical procedures on location, as well as recording spokesperson and other eLearning videos in its own green screen equipped studios just outside of Philadelphia. DDA provides casting of any professional voice-over or on-screen talent required through its own Actors' Network. DDA also produces 2D medical animations, useful when anatomical structures need to be simplified or color contrasted to be understood, and 3D medical animations, when internal anatomical structures must be understood within their broader context within the body. Learn more about DDA's long history with medical eLearning videos and animations. Contact DDA today.
---
Latest Blog Posts
---
Medical Advertising and Marketing | Corporate and Medical Videos | Corporate and Medical Training
Search Engine Marketing | Custom Software Programming | USA Marketing and Advertising
Interactive Media Design
Search Engine Marketing Philadelphia | Search Engine Optimization Pennsylvania
Search Engine Promotion New Jersey | Website Design Philadelphia | Website Marketing Delaware
Website Optimization New York | Website Promotion Pennsylvania | Internet Promotion Delaware 
Internet Business Pennsylvania | Internet Advertising Philadelphia | Internet Marketing New Jersey