Website Design and Optimization
Visit our current corporate site ddacorp.com
Learn more about our website design, eLearning, video production, software development and programming, mobile apps, and augmented reality services.
---

---
E-Commerce Website Design and Hosting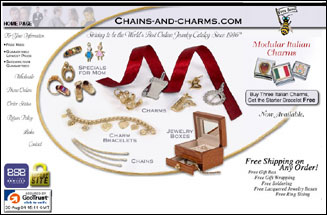 One of the largest jewelry websites on the internet, Chains-and-Charms.com contains about 15,000 pieces of jewelry and charms. Average visitors to this state-of-the-art e-commerce site resulted in 40,000 hits in December 2003. Dynamic Digital Advertising has developed, designed, programmed and search engine marketed this leading online jewelry catalog since 1996.
Shopping carts vary greatly in stability, security and capability. Dynamic Digital Advertising is proud of the ColdFusion shopping cart that DDA has programmed for Chains-and-Charms.com. Over 15,000 pieces of jewelry work together seamlessly with internal searches, credit card acceptance and automatic e-mail communication.
Multiple urls, intense search engine marketing and an often complemented design and interface have been the hallmarks of this DDA website since 1996.
---
---
CUSTOM MEDICAL ELEARNING DESIGN AND DEVELOPMENT
Continuing Medical Education (CME) eLearning platforms by DDA take CME to a new level of interactivity. DDA's broad array of creative and technical competencies are deployed within a highly integrated work environment in which all platforms are designed and developed in house under one roof. This keeps workflows efficient and design and development processes consistent with client expectations, ensuring maximum value of the end result. DDA creates CME platforms with intuitive navigation and user controls, striking multimedia presentations, robust skills verification features, integrated CME accreditation, and personalized certificates of completion for positive learning experiences that deliver serious results. Advanced metrics reporting grants administrators greater insights into user experiences for continual improvement, and e-Commerce features can be integrated to facilitate sales of CME courses. Search engine optimization and marketing helps CME platforms reach their designated audiences. Contact DDA and find out how its custom CME eLearning platform design and development can make your CME course a success.
---
WEB DESIGN AND DEVELOPMENT
Dynamic Digital Advertising (DDA) provided the Chains-and-Charms website with the web design and development services it needed to increase its Internet sales. Through steps, like goal setting and extensive keyword research, DDA was able to identify the online marketing and advertising needs of Chains-and-Charms and create a plan that would see that those expectations were met. With keyword-rich content development and website metrics, Chains-and-Charms experienced increased sales and a greater corporate identity.
---
SEARCH ENGINE MARKETING
These days, without a search engine marketing campaign in place, your business may not experience the growth you hope for. Recognizing this trend towards online advertising and marketing, Dynamic Digital Advertising employs the services of expert graphic designers and degreed copywriters to design and develop websites through the process of search engine optimization. Our revolutionary 18-step process which includes goal setting, website metrics and extensive keyword research, assures that your website will appear in the top search results pages of major search engines like Google, Yahoo, and MSN. Matcor is just one of the many companies DDA has provided search engine marketing services for that boosted their companies online presence and profits.
---
GRAPHIC DESIGN SERVICES
Dynamic Digital Advertising (DDA) hosts the largest catalog of graphic design services in the nation, ranging from print media like brochures, catalogs, and sell sheets, to large format graphics like truck signs and billboards, and multimedia graphic design for CD-ROMS and DVDs. Given its wide range of applications, Matcor chose DDA to spearhead an advertising campaign that fused both a print advertising scheme and an online advertising plan that centered on the graphic design of a Venn Diagram, featured on the home page of their website, that connects the heart of Matcor's company: engineering, customer service, and products. With its consistent corporate identity, Matcor left an unforgettable impression on its potential clients, colleagues and investors.
---
Latest Blog Posts
---
Medical Advertising and Marketing | Corporate and Medical Videos | Corporate and Medical Training
Search Engine Marketing | Custom Software Programming | USA Marketing and Advertising
Interactive Media Design
Search Engine Marketing Philadelphia | Search Engine Optimization Pennsylvania
Search Engine Promotion New Jersey | Website Design Philadelphia | Website Marketing Delaware
Website Optimization New York | Website Promotion Pennsylvania | Internet Promotion Delaware 
Internet Business Pennsylvania | Internet Advertising Philadelphia | Internet Marketing New Jersey